Robert Princenthal, M.D. is a board-certified radiologist with more than 25 years of experience helping patients better understand the results of their medical imaging studies. Dr. Princenthal is president and founding partner of Rolling Oaks Radiology, a network of outpatient imaging centers in Ventura County, California. He also serves as the medical director for RadNet's Prostate MRI Program.
Dr. Robert Princenthal has been instrumental in establishing one of the most robust prostate MRI practices in the nation. As of July 2013 the Program has read more than 3,000 prostate MRI studies and has grown to become one of the largest, most experienced practices in the country.
In the mid-2000's Dr. Princenthal recognized new MRI imaging techniques allowed for increased sensitivity and specificity for cancer detection. In partnership with RadNet Prostrate MRI Program co-Director Martin Cohen, M.D., Dr. Princenthal nurtured relationships with many of the leading medical device companies – this enabled the Program to develop and validate some of the most advanced prostate cancer screening and staging MRI protocols available to patients.
In 2008 Invivo Corporation selected Rolling Oaks Radiology Thousand Oaks as a beta site for their MRI computer assisted detection (CAD) software. The center was also chosen to investigate their stereotactical biopsy device (approved by the FDA in September, 2009). Dr. Robert Princenthal currently is a consultant to GE Healthcare to assist in ways to improve their prostate MRI 3T imaging protocols.
In addition to his clinical knowledge interpreting MRI prostate studies, Dr. Robert Princenthal has numerous prostate MRI publishing credits that have advanced evidence-based medicine's ability to screen and stage prostate cancer. In 2011 Dr. Princenthal was selected by Phillips to present a national webinar to fellow radiologists about the latest advancements in MRI to obtain prostate biopsies. He has presented prostate MRI imaging Grand Rounds presentations at the University of California at Irvine and the Mission Community Hospital in Mission Viejo, CA.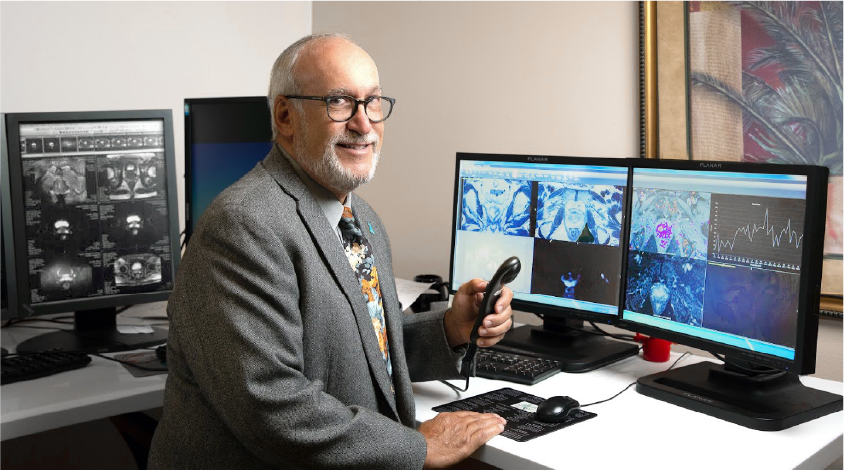 Dr. Robert Princenthal is committed to working with prostate cancer advocacy and research organizations to improve awareness about prostate cancer. He is a member of the AdMeTech Foundation Prostate Cancer Leadership Committee and, along with Dr. Cohen and the RadNet Prostate MRI Program, has been a sponsor for the Prostate Cancer Conference since 2010 (Prostate Cancer Research Institute).
Additionally, he frequently provides lectures about prostate MRI to cancer support groups such as local American Cancer Society (ACS) Man 2 Man programs, Us TOO International Prostate Cancer Education & Support Network chapter meetings and Cancer Support Community (Valley/Ventura/Santa Barbara).
Dr. Robert Princenthal received his medical degree from the Penn State University College of Medicine, Hershey Medical Center (Hershey, PA). As a medical student Dr. Princenthal was a delegate to the 1979 American Medical Association convention in Chicago and served a term as the president of student government. He completed his internship at Hartford Hospital (Hartford, CT) and his residency in diagnostic radiology at the Yale University School of Medicine, Yale-New Haven Hospital (New Haven, CT).
Dr. Robert Princenthal refined his craft as a radiologist by completing a fellowship in CT, ultrasound, interventional radiology and angiography at the University of California, San Diego. He has a hospital affiliation with Thousand Oaks Surgical Hospital (Thousand Oaks, CA).
"While I recognize it can be difficult for men to discuss the health of their prostate it is important for men, and their families, to understand their risk factors. The ability of evidence-based medicine to accurately screen, stage and treat prostate cancer has never been better. New biopsy techniques, such as an MRI guided-biopsy, eliminate the need for multiple biopsies often found with ultrasound techniques.
Men need to learn how to fight like women. Through advocacy and education women have become empowered to improve the way breast cancer care was provided. Men are 20 years behind. The parallels between prostate cancer in men and breast cancer in women are remarkably similar."
Schedule an Appointment
RadNet radiologists and the rest of the RadNet team are committed to ensuring that patients receive the best care possible.To achieve this, RadNet is committed to ensuring patients receive high - quality prostate imaging exams performed by expert radiologists with advanced training in this area.
Find A Location