PSMA PET/CT
F-18/PSMA PyLarify
RadNet is now offering the newest FDA-approved PET/CT tracer for prostate cancer.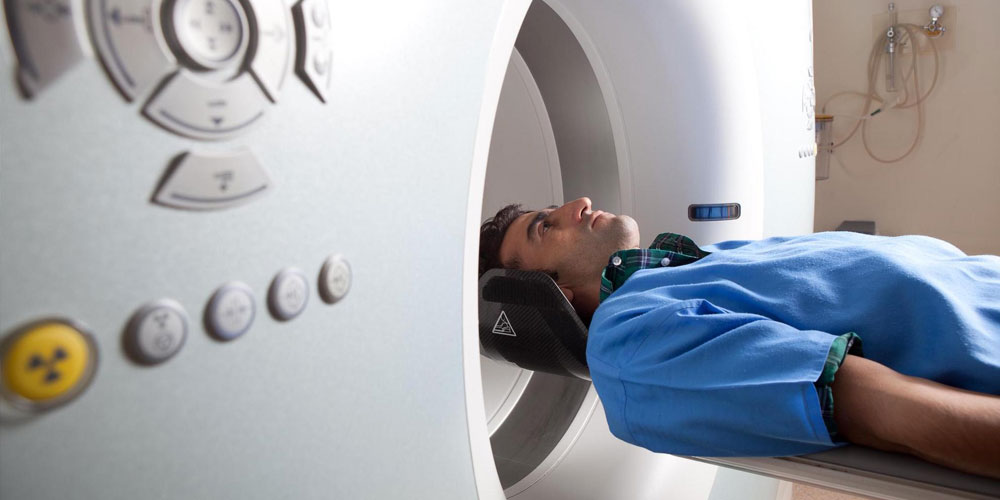 What is F-18 PSMA/PyL?
F-18 PSMA/PyL is an injected molecular tracer that targets PSMA, used for a PET/CT scan.
F-18 PSMA/PyL binds to the active extracellular site of a PSMA molecule with high affinity and visualizes prostate cancer cells but not normal (healthy) cells.
BY TARGETING PSMA, a PYL PET/CT SCAN IMPROVES DISEASE ASSESSMENT IN PROSTATE CANCER—EVEN WHEN PSA LEVELS ARE LOW
PET/CT combines the images from a positron emission tomography (PET) (molecular scan) with those of a computed tomography (CT) (anatomic scan). The PET and CT scans are done at the same time with same machine. Together, they provide detailed images of anatomy and function of organs and tissues inside your body.

PET/CT is a way for physicians to learn accurate information about your cancer including stage, spread and how you are responding to treatment.
What is PSMA?
PSMA is a protein expressed in all prostate tissue.
95% of prostate cancer cells overexpress PSMA, making it an outstanding imaging marker for primary prostate tumor and metastases.
Which Prostate Cancer Patients are Candidates for PET/CT with F-18 PSMA/PyL?
F-18 PSMA/PyL is approved by the FDA for:
Initial Staging – Prostate cancer patients with suspected metastases who are candidates for initial definitive treatment

Biochemical Recurrence (BCR) – Prostate cancer patients with suspected recurrence based on elevated PSA level
What is the Prep for this Scan?
No fasting required

Not glucose dependent

OK to take all medications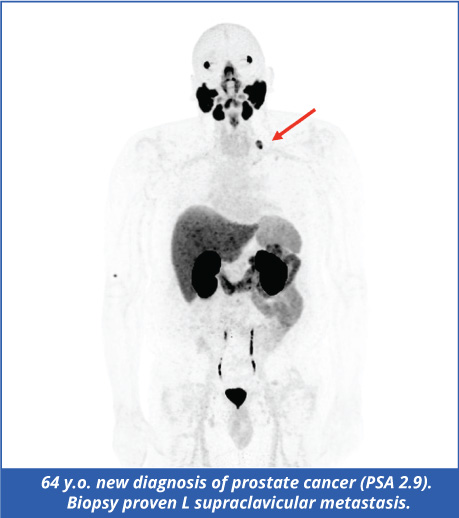 RadNet Locations for PET/CT F-18 PSMA/PyL
Arizona Diagnostic Radiology Apache Junction
1840 W Apache Trail, Apache Junction, AZ 85120
P: 480-288-6400 | F: 480-288-4079
Beverly Tower Wilshire Advanced Imaging Center
8750 Wilshire Blvd, #100, Beverly Hills, CA 90211
P: 310-689-3100 | F: 310-601-1446
Elite Advanced Imaging
17260 Bear Valley Rd, #109, Victorville, CA 92393
P: 760-951-2867 | F: 760-951-7473
Healthcare Advanced Imaging
4500 Olivewood Avenue, #100 & #200, Riverside, CA 92501
P: 951-682-7580 | F: 951-682-2143
Imaging Specialists of Pasadena
630 S Raymond Ave, #210, Pasadena, CA 91105
P: 626-356-0700 | F: 626-356-0400
Kern Radiology Bahamas
2301 Bahamas Dr, #01, Bakersfield, CA 93309
P: 661-324-7000 | F: 661-334-3164
Liberty Pacific Advanced Imaging Tarzana
18133 Ventura Blvd, #100, Tarzana, CA 91356
P: 818-933-2020 | F: 818-342-0303
NorCal Imaging Walnut Creek
114 La Casa Via, #100 & 200, Walnut Creek, CA 94598
P: 925-937-6100 | F: 925-938-9940
Rancho Mirage Interventional Radiology & Imaging Center
35800 Bob Hope Dr, #150A, Rancho Mirage, CA 92270
P: 760-770-1920 | F: 760-770-8345
Rolling Oaks Radiology Thousand Oaks
415 Rolling Oaks Dr, #230, Thousand Oaks, CA 91361
P: 805-778-1513 | F: 805-777-3846
Temecula Valley Advanced Imaging Murrieta
25455 Medical Center Dr, #100 Murrieta, CA 92562
P: 951-696-4230 | F: 951-696-4240
Temecula Valley Advanced Imaging
Temecula Parkway 31775 De Portola Rd, #100 Temecula, CA 92592
P: 951-587-8956 | F: 951-587-8290
Valley Metabolic Imaging
6121 N Thesta St, #207 Fresno, CA 93710
P: 559-449-2640 | F: 559-432-7020
WaveImaging Irvine Barranca
4050 Barranca Pkwy, #160 Irvine, CA 92604
P: 949-726-9500 | F: 949-753-9030
WaveImaging Newport Beach
3300 West Coast Highway, #B Newport Beach, CA 92663
P: 949-646-4400 | F: 949-753-9030
WaveImaging Orange
230 S Main St, #101, Orange, CA 92868
P: 714-978-2937 | F: 714-978-2518