Interview with Dr. Princenthal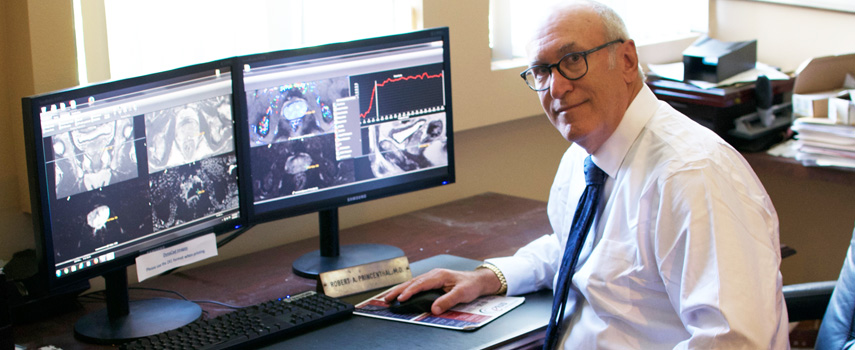 Prostate cancer is the second most common cancer amongst men; over 220,000 new cases are diagnosed every year. Though prostate cancer can be effectively managed if it's detected early, one of the most effective screening methods, prostate MRI, has still not been adopted as a vital component of men's health, the way mammograms have been for women. RadNet and its affiliates are working to change that and expand access to this important procedure through our Prostate Cancer Program. To find out how the program is working to improve men's health, we spoke with Dr. Robert Princenthal, co-director of the program and one of the men who helped establish the validity of prostate MRI as an evidence-based screening method.
Tell us a little about RadNet's Prostate Cancer Program. How did it begin? How is it helping men cope with this disease? What challenges in the medical community is the program trying to overcome?
RadNet and Rolling Oaks Radiology were early adapters of prostate imaging. We received training and mentoring from the two leading experts in the world Dr. Jelle Barentsz and Dr. Peter Choyke on prostate imaging cancer detection, which allowed us to become advanced MRI readers and develop the skills we needed to promote this technique in the community.
In the past, doctors relied on PSA screening [Prostate-Specific Antigen] and non-targeted biopsies to diagnose prostate cancer, but these often missed clinically significant cancers or reported inconclusive results. Some patients exhibited harms of bleeding and infection. The advantage of prostate imaging is that a negative prostate MRI has a very strong negative predictive value of over 90 percent. In other words, if a man receives a benign prostate MRI report, the likelihood of him having significant prostate cancer not detected is less than ten percent. On the other hand, if a suspicious target is identified, the cancer detection rate is over 85 percent. Those statistics are among the best of any organ that we image today. By contrast, in breast cancer mammography, a when we see a suspicious finding, we only find cancer 25 percent of the time, and a negative mammogram only means the woman is cancer-free 75 percent of the time.
The program's biggest challenge is that there is limited access; very few radiologists have the expertise to perform prostate imaging well. At Rolling Oaks Radiology, Dr. Cohen and I have reached out to men's support groups to help educate them about the benefits of asking their doctors about prostate MRI.
What advantages does this program provide men who are at-risk of prostate cancer?
Currently, RadNet is performing and interpreting more prostate MRIs than any other site in the country, which creates terrific experience and confidence in the reads coming from these centers. To ensure the highest quality reads, only the two physicians with the highest experience read our prostate exams, the ones with the highest experience. We perform academic-quality reads, frequently at a lower cost. Very few private practice groups have developed our level of expertise in prostate imaging. Many people feel that they can only get this quality by going to an academic university center, which is not the case.
As one of the directors of the program, what are your duties?
My role as medical directors is to ensure scans are performed with the highest medical quality and to provide in-service training for our team, to ensure optimal imaging. As part of that, we need our support staff to provide us with all the clinical data on the patients, including PSA and biopsy results, and we need to track our reports and correlate them with biopsy results, to help us establish our cancer detection rate. We also market the program vigorously and educate referring doctors and patients regarding about our results. In summary, it's a three-fold process of ensuring scans are done correctly, ensuring our reads are accurate, and advertising our results within the community.
You've said this program works to educate doctors as well as patients. How do you feel this program is improving doctor's knowledge about prostate cancer screening?
Just as we've had controversies with the US Preventative Services Task Force [USPSTF] about mammography and breast cancer screening, we've also had challenges with prostate cancer screening. Up until last month, the USPSTF guidelines did not recommend or encourage PSA screening. As a result, fewer men knew they had elevated PSA, fewer men had biopsies, and the detection rate for prostate cancer fell 28 percent. The cancers didn't disappear; the guidelines delayed detection. The USPSTF recently reevaluated their policy on PSA screening and now feel that it's useful, but many men and many doctors are still not informed regarding the changing and evolving guidelines about prostate cancer detection.
What success have you seen so far with the prostate cancer program?
Part of our success is that we have been able to share our message with most of the key urology groups in the southern California region. We have participated with educational forums such as the PCRI and the Prostate Cancer Research Institute in Marina Del Rey and the Men to Men and Us2 and wellness community groups to get the word out to both patients and physicians. This outreach has allowed us to be as successful and as busy as we have been because there are very few groups who are able to provide and match our quality and accuracy.
Have you been surprised by the reception the program has received?
No. Actually, we're a bit frustrated it's taken so much time and effort to get people's attitudes to change and support the proper approach, which we knew back in 2009, but gradually, as additional academic centers and worldwide data has validated our approach, there is less reluctance to refer men for prostate imaging.
What do you hope the program will achieve in the future?
We hope that prostate MRI will be considered a standard screening exam for men, like mammography is for women. We hope to come up with appropriate screening guidelines that will provide men the benefit from prostrate MR and we're hoping to be able to reduce the scan time, thereby reducing the cost to make the study more available while maintaining its accuracy.
What challenges remain in prostate cancer screening and how is the RadNet's Prostate Cancer Program dealing with them?
Many men are more afraid of treatment than being told they have prostate cancer. Many men know fathers or uncles who had radical prostatectomies and suffered from complications and side effects, such as impotence and incontinence. Those are strong obstacles that prevent men from finding out if they have prostate cancer. Now we can provide more accurate evaluations of tumor volume and Gleason score staging and there are new treatments on the horizon of focal therapy, which will reduce the harms and side effects from surgery. The additional benefit of robotic prostatectomy also reduces the surgical side effects. So we're hoping that with the advances of urologic management and the role of imaging, we can help men overcome their fears of the complications and not be afraid to get tested.