Considering Some Prostate Cancer Facts for Father's Day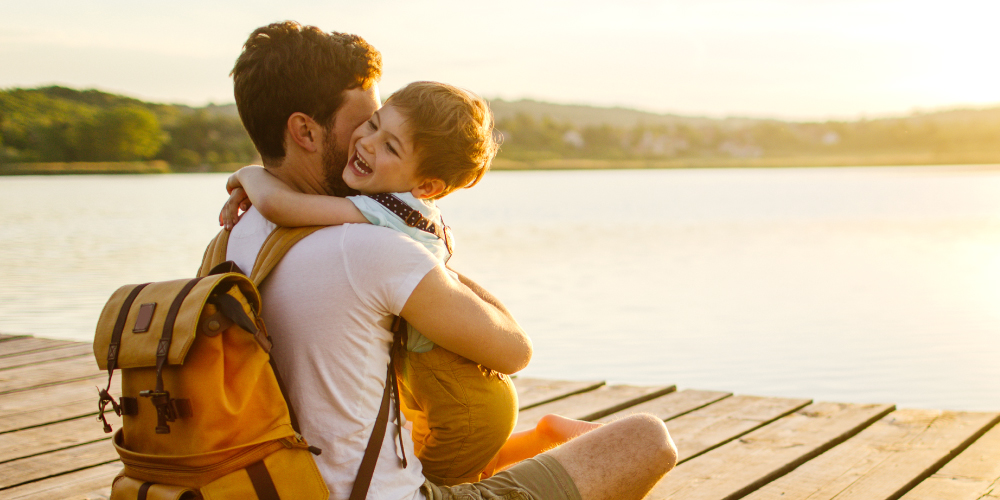 Considering Some Prostate Cancer Facts for Father's Day
Prostate cancer takes an incredible toll on American men, yet awareness of basic prostate cancer facts is lacking.
Father's Day represents a time for us to celebrate the paternal bonds that develop between father and child, as well as to reflect on the role of fathers and father figures in our society. Many children while growing up probably fail to recognize that their dads are indeed mortal, believing instead that these men are infallible and immune to injury or illness. Men in general seem to stray from the subject of health in conversation, preferring perhaps a less personal topic, but the stigma surrounding prostate health is especially hard to break.
While conversations regarding personal health can be uncomfortable, particularly when they involve the most intimate parts of our bodies, men should be more aware of their risk for prostate cancer. Prostate cancer affects millions of men in the United States alone. This Father's Day, whether you are a father or just care about your own, take some time to consider these prostate cancer facts.
Key Prostate Cancer Statistics
230,000 thousand men will be diagnosed with prostate cancer and that nearly 30,000 will die from prostate cancer in 2014, according to American Cancer Society estimates.
More than 2 million men are estimated to be currently living with prostate cancer.
About 1 out of 7 men will be diagnosed with prostate cancer; 1 out of 36 will die from prostate cancer.
Among cancers, prostate cancer is the most common non-skin cancer and the leading cause of death in American men behind only lung cancer.
A man is 35 percent more likely to develop prostate cancer than a woman is to develop breast cancer.
A non-smoking man's risk for developing prostate cancer is greater than his combined risk for developing colon, bladder, melanoma, lymphoma and kidney cancers.
Risk for Prostate Cancer Increases as You Grow Older
Risk for developing prostate cancer increases dramatically with age. While men should be aware that prostate cancer can be diagnosed as early as 35, with very few cases diagnosed at an even earlier age, prostate cancer primarily affects older men. Approximately two-thirds of all prostate cancer cases occur in men aged 65 and older. According to the Centers for Disease Control and Prevention (CDC), a man at the age of 40 has a 2.6 percent chance of developing prostate cancer within 20 years. At age 60, that number increases to nearly 13 percent.
Prostate Cancer Treatments Can Have Serious Side Effects
In 2010, nearly 140,000 prostatectomies were performed to treat prostate cancer, according to the CDC. During this procedure, a part of the prostate gland (simple prostatectomy) or the entire prostate gland (radical prostatectomy) is surgically removed. Side effects to radical prostatectomy can have immense effect on sexual health and ability to control urination. Nearly 80 percent of men who received radical prostatectomy reported an inability to have or maintain an erection while 15 percent reported frequency incontinence or no urinary control, according to results of the Prostate Cancer Outcomes Study.
There are Different Kinds of Prostate Cancer
Most prostate cancers are a type called acinar adenocarcinoma. This type of prostate cancer is generally slow-growing and unlikely to spread beyond the prostate gland, although this is not always the case. About 10 percent of prostate cancers are a type other than acinar adenocarcinoma. These other types include ductal adenocarcinoma, transitional cell, squamous cell, carcinoid, small cell, and sarcomas and sarcomatoid cancers. Some of these, such as sarcomas and sarcomatoid cancers, tend to grow and spread more aggressively.
Prostate Cancer Imaging at RadNet
The prostate cancer facts listed above paint a serious picture. Despite the huge toll that prostate cancer is taking on American men, prostate cancer awareness remains relatively low and more can be done to communicate prostate cancer risks and treatment options to patients. At the RadNet Prostate MRI Program, we believe MRI prostate imaging can help to facilitate this by offering patients and their physicians valuable information about individual cases of prostate cancer, which can inform treatment decisions and allow patients the chance for a long, happy life.
There are better options than the current standard for detecting and grading prostate cancer, a blind 12-core transrectal ultrasound (TRUS) biopsy performed in a urologist's office. Since implementing MRI prostate imaging in 2009, training with and achieving experience in this relatively new imaging technique, we believe that we are better able to triage men at risk for prostate cancer and guide treatment decisions.
If a suspicious area is detected within the prostate using MRI, we can perform a targeted biopsy that requires fewer needles and results in more accurate information about a potential abnormality or cancer than TRUS biopsy. This can help men with low-grade, low-volume cancers avoid unnecessary radical treatments and their side effects by pursuing a course of active surveillance instead.
Prostate cancer screening has been proven to save lives and, by supplementing PSA blood tests with prostate MRI, we can improve screening to help distinguish aggressive cancers requiring surgery from the low-grade diseases that can be observed. Please consult with your physician to learn if you are a candidate for prostate MRI imaging.